Bringing Quality Lasting Results. Live Your Life With More Joy & Ease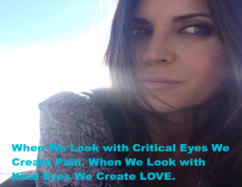 Thank you for taking the time to visit my site. I hope this helps answer some questions, & perhaps put you at ease. Advertising my Empathic & Intuitive abilities is something very new for me. Even though I have had these abilities since I was a child I did not mention them to many. When I did I was looked at like; "Oh doesn't she have a wonderful imagination", or "Isn't she an interesting child". I had dreams that came true, saw deceased relatives in my room and others I did not know... things that went bump in the night had a whole different meaning to me. I was scared, worried and confused. Being brought up in what I would consider a relatively small city in the South you can imagine this was not something one wanted to shout from the rooftops. Over time I learned to tune-out what I was receiving and block it, becoming "normal".
---
Well, it seems that God, our beloved creator, had other plans for me. After spending the better part of fifteen years as a successful music executive and feeling completely unfulfilled I decided to turn towards my first love which was psychology. See I LOVE hearing peoples stories. I think we all are so unique and have amazing abilities inside of us. So as I started down this path of learning different therapeutic techniques and modalities, I was also on a deep spiritual path which involved meditation but I had no idea that mediation could open up my senses. Hello! In time, my abilities were back and over the years as I have progressed and FINALLY gotten over my fear of them, they have gotten even stronger. I look at them now as a gift and I use them to help people heal.

I am not interested in telling you if you will meet the love of your life... I want to help you see why you haven't - "YET". Where is the block in your Soul , Heart or Mind? Where do we need to bring Healing? That is how I use my abilities. I am not your average psychic who will just tell you a bunch of things you want to hear or "predict" your future. I am an Intuitive who tunes into your energetic fields, senses blocks within your physical and energetic body & helps you remove the blocks restoring you to a sense of healing and wholeness.

Nothing is set in stone and we have "Free Will". There is always more than one path we can choose and "Our Choices" do shape our futures. I usually try to see both paths if someone is struggling to make a decision with a choice. For instance if they are considering ending a job, career or relationship, we look at the options and I see the possibilities ahead and get the client in-tune with their body to see how they will FEEL if that happens or if it doesn't happen. I work in a very unique way with my clients. My clients are active participants in their readings monitoring their bodies and internal responses as I provide information. I will not tell you want you want to hear but I will tell you what you NEED to hear for your Soul Growth. I have seen sessions like this create huge shifts in people!

Personally I prefer the terms 'Spiritual-Intuitive or Intuitive-Medium' for the most part. You will hear me refer to my 'readings' as a "Hearts Desire Session", because if we get to the base of it all that is what we are dealing with. What is your true hearts desire?... How does it need to heal? What does it need to learn or manifest? Whether it's making peace with the past, a relationship, an aspect of yourself it all boils down to the same thing. Everyone at their core desires a peaceful heart (or state of being). We are all trying for that however we go about it. Even the people who start all of these wars and live in a lower vibration of consciousness using violence to solve violence at their core they are striving for peace.
​
I feel the word "physic" is over used, misunderstood & under-rated as to what it really takes to develop strong abilities & the responsibility that goes along with these kinds of gifts. They are meant for healing! (in my opinion) People are suggestible and can be vulnerable so you have to be careful with how you deliver the message. I feel a deep responsibility to my clients and to the Universe doing this work.
Abilities I have in the Intuitive Realm:
Empath/Medium/Psychic Intuitive with the senses of; seeing, feeling, knowing and hearing.
What does all of that mean...it means that I have the ability to feel into the clients body to know what they are feeling at any given time. It also means that I can see pictures in my mind of events, hear words, and bring forth details that are beneficial for the client. It also means that if there is a deceased relative, angel or spirit guide that shows up to support you I can also feel and sense their presence. I can at times feel the touch of a spirit. The "touch part", honestly, I am not so fond of. It can still freak-me-out so I try to set boundaries to only receive communication through emotions, words and images.

Spirits speak to us very symbolically much like our subconscious mind and I find their unique symbology is healing for the clients. It is always something that resonates deeply with them.

What To Expect In A Hearts Desire Session:
I will ask you to think about your 'hearts desire" even if you don't know what that is, which is usually the case. You will simply 'think about wanting to know your hearts desire' and setting the intention I will be able to read the energy form there.
Sometimes I will use Angel Cards and occasionally will pull from A Tarot deck. I might set up a Morphogenetic energy field (Constellation) on a peace of paper by writing the name or issue on the paper and read from there. Or just tune straight into your soul and heart to see what is going on. I work from my gut and by what my mind shows me when I tune into your energy field. I will always explain what I am doing so there are no surprises or anything unexpected from me. But please know I am not in control of what spirit does.

Looking at Life Path Choices and Relationships:
I basically consider myself an energy decoder. I am looking at what energy supports your well-being and what is draining to your well-being or life-force energy. Where there are soul breaks and wounds that need healing. Of course there's a lot involved in that process. And sometimes we might need to break into a therapeutic modality if a Soul Piece comes up that needs healing. That can, but not always, be a part of this process. The more the client is willing to participate the greater the shift. That is a fact!





Mediumship Sessions:
For the most part you will not be able to notice that I am increasing my heightened awareness. I might close my eyes or focus on a spot and tune into who I feel around you. I might ask you to say the person's name a few times or write it down if you are trying to contact someone in particular. I find that a lot of intuitive information also comes through in my mediumship sessions and deceased loved ones convey messages of hope, love, closure, guidance and so much more. Of course as I mentioned earlier I am not in control of Spirit so sometimes a certain person you might want to be contacting does not come through. I know it's disappointing but it's busy on the other side. I have found that what the client needs to hear, or 'not hear', is always in their highest good. And, after all that's what we are striving for!


Example of a "Hearts Desire" Reading around Grief & How it Helps Therapeutically:
I had a client come to me who had been struggling creatively, isolating and feeling down & depressed. She was talking about a humming bird that came into her loft and she was able to actually hold it and put in on her windowsill. In my mind I saw 2 humming birds - 1 large one and 1 smaller one that was delicate. When I shared this with her her mouth dropped open a bit and I said to her (knowing her father, sister and brother were all deceased) "The larger humming bird was your Father and he was bringing your Sister to you. Showing her the way".
My Client then told me that was indeed how it happened. A larger bird flew in with a smaller one following. The larger bird made it's way out of the house but my client had to capture the smaller one and that bird would not leave. It sat on her window seal and once it flew out it hovered outside for a long while.
Later in another session I was able to channel the essence of her sister and deliver a message that was extremely healing, motiving and life shaping for my client. My client was instantly at peace knowing her relatives are with her. She has since seen the humming birds as they still fly into her house and she has had some wonderful experiences feeling the love and guiding support from them. It's helped her not feel as alone and more at peace knowing they are happy on the other side of the veil.

During this reading process the client was tracking where she felt the grief in her body and through this process we were also able to help her release it and she was able to reconnect to the love in her heart she feels and felt for and from her father and sister. This incorporated a lot of the Constellation Therapy Techniques (Please visit the Constellation Therapy for more details to this therapy I often combine the two)
Lisa studies "with & the works of" International & Renowned Psychics such as Christina Colby, Lisa Williams, Rebecca Rosen, John Edwards, Doreen Virtue & many more


13455 VENTURA BVLD, SUITE 216, SHERMAN OAKS 91423
818-219-6642