Results: "I have been battling severe alcohol abuse for 9 years and have come across 50-60 recovery practitioners (psychologists, psychiatrists, counselors, and various other mental health resources). Never have I come across such a breakthrough in my internal energy which I believe will be core to my sobriety, than I did working with Lisa Cefalu. Her expertise and caring approach is among the best mental health professionals that I have worked with." J.R./Arizona

Biography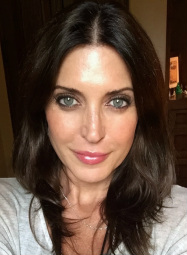 Lisa Cefalu is the founder for The Center For Integrated Healing & creator of the "Integrative Body Counseling Process" (I.B.C.), the "Radiant Heart" workshop series, "The Gratitude Practice" global community, & "The Constellation Wisdom Group".
Lisa also works as a staff Hypnotherapist & Somatic Trauma Therapy Practitioner at Passages Addiction Center Malibu. But, Lisa's greatest Joy & Biggest life lessons come from being a Mom to her amazing 9 year-old son!

She is a Body-Mind Psychotherapist offering a wide range of therapeutic modalities allowing her to personalize each session specializing in helping people who are struggling with; Past Traumas, Addiction, Relationship Issues, Financial Problems, Anxiety/Depression, Cancer, Harmful Habits, Weight Issues, Fears & Phobias, Auto-Immune Disorders, Chronic Debilitating Pain, Self Esteem Issues, Creative Blocks and Life Path Struggles.

Lisa uses a combination of Clinical Hypnotherapy, Brainspotting, Somatic Trauma Therapy, Constellation Therapy, Attachment & Bonding therapy, Spiritual Counseling , Mindfulness, Emotional Kinesiology, &/or Reiki Healing to achieve lasting and healing results with her clients.

Lisa has developed her own transformative technique called 'Integrative Body Counseling', based on Somatic Trauma Therapy, Emotional Tracking, Mindfulness concepts and techniques combined with one's higher intuition to help bring the client to a state of healing and balance.
Lisa is multi-certified in Constellation Therapy based on the work of Bert Hellinger, which addresses inherited family and ancestral patterns and systems. She facilitates her own private monthly constellation group, "The Constellation Wisdom Group," and does one-on-one private constellations. The word "Constellation" refers to the internal picture. Please visit the "Constellation Therapy" page for more information on this amazingly transformative process.

Lisa also does "Hearts Desire" readings for her clients using her Intuitive Abilities to help clients move forward in their life with greater ease. In this process the client is very much involved with the reading as they work together to find old beliefs, blocks & patterns that are standing in the way of the clients highest potential while looking at life path options available to achieve the most valuable & resourceful outcome.
She is also a Intuitive Medium helping her clients connect with loved one's who have crossed over who often offer messages that bring great healing. For more information please visit the 'Therapeutic Intuitive Services' page.

In addition to her private practice Lisa has offered her support as a Reiki Master at WeSpark Cancer Center in Sherman Oaks & The UCLA "Young Women's Breast Cancer Survivors Group". For many years Lisa was part of the faculty at The Hypnosis Motivation Institute where she attended school and quickly transitioned to teaching workshops and core classes earning state credentials in the area of hypnosis and behavior modification.



---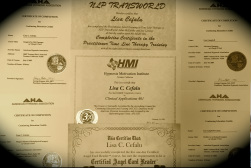 Ms. Cefalu is a proud member of the following organizations:
United States Association for Body Psychotherapy
National Guild Of Hypnotist
National Association Of Professional Women
Spirited Women Network

WeSpark Cancer Support Center
Reiki Training Program & The Reiki Membership Association

CERTIFICATIONS & TRAININGS:
Somatic Trauma Therapy/B. Rothschild
State credentialed Diploma Of Hypnotherapy from Hypnosis Motivation Inst.
Certified Clinical Hypnotherapist/ National Guild Of Hypnotist
Relational Constellation/The Constellation Institute of California Santa Barbara
Systemic Family Constellation Therapy/John L. Payne
Emotion Code Kinesiology/Ruth Kent RN
The Way Of The Shaman Foundational Practitioner/Amanda Foulger "The Foundation For Shamanic Studies"
Mindfulness Coach/ Gloria Kamler M.A.R.C. Program /UCLA
Mindfulness 'The Power Of Awareness"/ J.Kornfield & T. Brach
Brainspotting Facilitator/Dr. P. Frey & Dr. D. Grand
Neuro-Linguistic Programming/American Hypnosis Assoc. (AHA)
TimeLine Therapy/AHA
Certified Master Therapeutic Imagery Facilitator/AHA
Neurofeedback Therapy/Clarity Ent.
Smoking Cessation Specialist/AHA
Bi-Lateral Meridian Tapping
Cert. Angel Card Reader/Doreen Virtue
Ordained Minister/Universal Life Church
Reiki I&II/ Reiki Restore
Reiki Master/The Reiki Training Program
Certified Medium- Intuitive/Tree Of Light

Lisa also studies Yoga, Mediation/Mindfulness, Various Body Psychology Therapies, Shamanism & courses related to Psychology, Spiritual Growth & Intuitive Development
---

{Lisa works with clientele from around the world Via Phone or Skype which is just as effective as in person}

MAIN OFFICE: 13455 Ventura Blvd, suite 216 Sherman Oaks 91423
(just east of 405 & woodman)
Also West Side and Malibu locations (traveling fee's apply)
818-219-6642

Bringing Quality Lasting Results. Live Your Life With More Joy & Ease